Jennifer Lopez Explains Stance on Fertility Treatments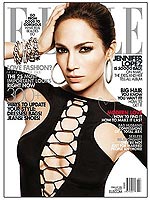 Courtesy ELLE
Instead of slowing down since becoming a mom to 22-month-old twins Maximilian David and Emme Maribel, Jennifer Lopez says she's motivated to do more.
"This is what I do — what, because I have kids and a husband now I'm not supposed to be me?" she asks in the February issue of ELLE. "I'm a more heightened me if anything."
Calling herself "hyper J. Lo.," the 40-year-old singer/actress says that "everything I wanted before, I want twice as much now." She is quick to clarify, however, that she's not referring to "material things."
"It means to explore more, to think more. Being an artist doesn't start because you're 21, and it doesn't end because you're 51. You are who you are until the day you die."
Accepting who she is — and her limitations — was key to Jennifer's decision to forgo in-vitro fertilization. "When it comes to family and relationships, I'm quite traditional," she explains. "Just because of the way I was raised."
Citing her faith in God, Jennifer adds,
"I just felt like you don't mess with things like that. And I guess deep down I really felt like either this is not going to happen for me or it is. You know what I mean? And if it is, it will. And if it's not, it's not going to."
Max and Emme are Jennifer's children with husband Marc Anthony.
Source: ELLE, February issue