Jenna Elfman Shares Story's Sleeping Schedule Secrets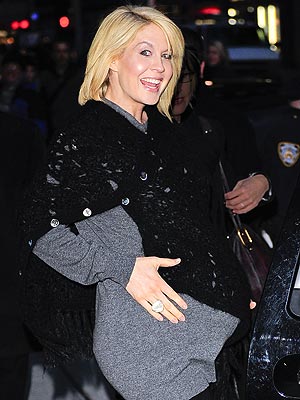 Ray Tamarra/Getty
She may already be a mom to 2-year-old Story Elias, but Jenna Elfman's second pregnancy has brought about its fair share of surprises.
Not only has she experienced a sudden baby belly growth spurt, but the expectant mama — due with a boy in March — is suffering from sheer exhaustion this time around.
"The first pregnancy I was developing, I wasn't going to work every day and I wasn't chasing a 2-year-old," she tells David Letterman during a Monday night visit to the Late Show (pictured at left after the taping).
"I napped, I was well-rested, but this one is quite different because I'm working every day, I'm promoting the show, [and] raising a 2-year-old."
That said, while she may be feeling the effects of having two children in two years, Jenna is looking forward to the day she can sit on the sidelines during play time.
"I'm hoping that they entertain each other because right now it's Mama!" she laughs.
Fortunately, Story has been giving Jenna a well-deserved break; The toddler received a "massive" Thomas the Train set for Christmas and is understandably thrilled. And while the Accidentally on Purpose actress admits the new toy is meant in part to keep Story occupied, Jenna confesses her gift was also intended as a bit of bribery!
"I'm trying to get him to sleep through the night, so I promised him, 'If you sleep through the night, you get a choo-choo' and he's been doing it!" she confesses.
"I have a whole collection of choo-choos prewrapped and they're ready to go. Manipulation, but it's okay!"
Reiterating that Story is very excited about the impending arrival — placing his hands on Jenna's belly and offering plenty of kisses — the soon-to-be mother-of-two is already anticipating a different tune once her new son arrives.
"The second the baby comes and I'm like attending to the kid [Story's] going to be like, 'RAWR!'"
Story and baby-on-the-way are Jenna's children with husband Bodhi.
Source: Late Show with David Letterman
— Anya