Christina Aguilera: Max 'Motivates Me to Play and Have Fun'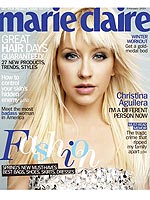 Courtesy Marie Claire
Having recently begun shooting for her first feature film — Burlesque, costarring Cher — and recently wrapped her fourth studio album, Bionic, Christina Aguilera packs a lot into a day.
The 29-year-old songstress tells the February issue of Marie Claire, however, that no matter how busy her career keeps her that day begins and ends with son Max Liron, turning 2 next week.
"It's really important that I'm the first thing he sees when he wakes up in the morning and the last thing he sees before bed."
Max's influence is apparent in Christina's music, which she admits has changed since becoming a mom. "I had a really hard time being light before," she notes. "I'd get a little weird about it being too cliché."
While her first record featured pop music, at the urging of producers, her second and third albums were more dark and carried "some sort of relation to my past," she explains. With Bionic, however, Christina says she is "just about the future." She adds,
"[It's about] my son in my life, motivating me to want to play and have fun."
Max is Christina's first child with husband Jordan Bratman.
Source: Marie Claire; February issue