Maggie Rodriguez Expecting Second Child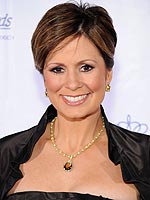 Larry Busacca/Getty
The CBS Early Show's family is about to get a little larger.
Relieved to finally let the "cat out of the bag," anchor Maggie Rodriguez shared with viewers this morning that she and her husband Michael will welcome their second child this summer.
And while her official due date is July 1st, the mama-to-be — who admits she officially popped over the holidays — is urging her co-hosts to start placing their bets on baby's arrival now. "I think with your second child you pop out sooner," she says.
Cradling her burgeoning belly, Maggie, 40, laughs,
"I don't think I'll make it [until July]. This is not July, this is like tomorrow!"
After a "really, really rough first trimester," Maggie is thrilled to be expanding her brood, a sentiment that is equally shared by her daughter Daniella, 4. "She is so excited," Maggie raves. "She just keeps asking me why does it take so long for the baby to come out."
Looking forward to finding out the sex of the baby in the coming weeks, Maggie is hoping the head start will give her plenty of time to pick a name. While she's hopeful her co-workers will suggest a possible moniker — and even agrees to a voting system — when asked if their opinions will truly matter, she quips, "Maybe not."
Source: The Early Show
— Anya