Maggie Gyllenhaal: It's Okay to 'Drop the Ball'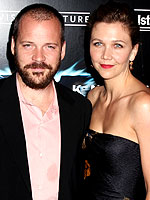 Janet Mayer/Splash News Online
If Maggie Gyllenhaal ever needed a celebrity mom role model, she found one in Emma Thompson. The Nanny McPhee and the Big Bang costars hit it off, and Maggie tells USA Today that it was a text message from Emma which convinced her to let go of her mom guilt.
"When I was a newlywed, I had no nanny and I was working on [Crazy Heart] she said, 'You have to let yourself drop the ball. Human beings do that. If you don't some really important part of you won't survive,'" Maggie recalls. "I think about it all the time."
Easing up on herself as a result, Maggie says that she no longer suppresses her need to work, as she did after the birth of Ramona, 3. "When I got this script, I was in this state of wanting something for me, selfishly, after having sacrificed a lot of things," she explains. "I felt really hungry — I felt like I'd spent two years mostly focused on my daughter, which was amazing. It changed everything in my life."
Crazy Heart was something Maggie says she knew instinctively she "had to do," because her character in the film undergoes a similar transformation. "Being a mother forces me to be so responsible," Maggie, 32, notes. "I'm very protective, and I try to keep [Ramona] out of this Hollywood stuff."
"But I make mistakes. I have that tug of wanting things that feel good to me and trying to figure out in what ways I have to sacrifice and what ways she has to sacrifice. I haven't been perfect at that."
At the same time, Maggie says that motherhood has made her "softer," and she no longer feels the need to be strong at all times in all situations. "You have to be so brave to feel your feelings," she says. "You have to have a different kind of strength to reveal the ways in which you're weak and the things you're ashamed of."
Ramona is Maggie's first child with husband Peter Sarsgaard.
Crazy Heart is in select theaters now.
Source: USA Today