Bryce Dallas Howard Dishes On Theo's Movie Debut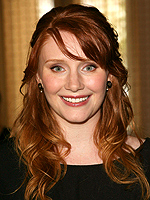 Jason Merritt/FilmMagic
Her dream of being directed by her father Ron Howard has yet to become a reality, but there is already one member of Bryce Dallas Howard's household that has beat her to the punch: her 2 ½-year-old son Theodore 'Theo' Norman!
In a new interview with PARADE, Bryce admits she is "desperate for my dad to direct me," but while she continues to hold out hope, her precocious baby boy has stepped into the spotlight. "[My dad] made a little movie with his grandson the other day. It was adorable, it was really cute," she reveals.
"It was Theo running around asking people to play with him, and everyone was quite busy and then, eventually, he asked my mom — and, you know, he was kind of down-trodden at that point — and my mom said, 'Hey, Theo. Do you want to play with me?' And he was like, 'Yeah,' and then they played. It was epic. A little comedy, a little tragedy."
And while the short home movie may be Theo's official debut on the screen, it was certainly not his first time in front of the camera! Keeping his mom company as she filmed her latest movie The Loss of a Teardrop Diamond, Theo can also be seen — albeit a bit undercover — during Bryce's scenes in Terminator Salvation.
"I found out later that I'd actually been in my first days of pregnancy during all those action scenes," she says.
"That freaked me out a little bit. But that was his first visit to a set, inside my tummy."
Theo is Bryce's first child with husband Seth Gabel. The Loss of a Teardrop Diamond is now in select theaters.
Source: PARADE
— Anya