Review: Abiie G2G BabyDeck Stroller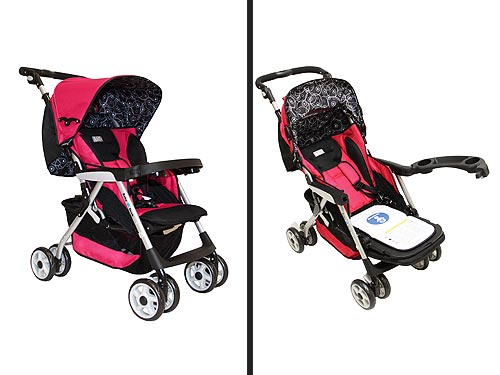 Courtesy of Abiie
Wouldn't it be nice if it was always easy to find a clean place to change your child's diaper? A new device can help with that: Texas-based design company Abiie recently launched the G2G BabyDeck stroller ($189), which features an innovative fold-out diaper changing system that lets you change your babe on the go.
Is it worth the investment? Check out our review below.
Click below for our review!

Things We Like:
We love the fold-out changing seat design –especially the removable pad, which is waterproof and BPA/PVC/phthalate-free. But that's not the stroller's only drool-worthy feature. It also comes with a child snack tray, large sun canopy, adjustable handle, good-sized under-basket and large magazine-size storage pouch on the back of the hood.
Plus, this mid-weight stroller (it weighs 18 lbs.) is easy to assemble. Just unfold it, attach the wheels, connect the basket and you're ready to go! And, it's car seat compatible and will work with all the following brands/styles: Graco SafeSeat and Snugride, Britax Chaperone, BabyTrend Flex Loc, Peg Perego Primo Viaggio and Chicco KeyFit.
Things We Don't Like:
Not really lightweight, it isn't the best choice for travel. And the changing pad isn't machine washable — although you can wipe it down with a wet cloth.
CBB Rating:
If you like the convenience of a built-in changing station, this stroller's for you. Just be wary of the size. It's definitely not light enough for long trips.
— Nancy