Kelly Rutherford Will Remain a Single Mom, For Now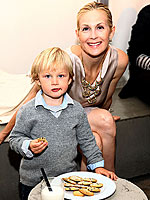 Astrid Stawiarz/WireImage
It's always tough to jump back into the dating world following a divorce, but for Kelly Rutherford, motherhood has made the already challenging task that much harder.
After filing for divorce from Daniel Giersch while pregnant with their second child, Kelly is not looking to upset the balance she has managed to attain as a single mother. That is, unless her Prince Charming makes an appearance! "I guess if it was an incredible person," she muses, before adding, "but you know, when you have kids you're so picky."
According to the actress, a possible suitor would not only have to impress her, but also her two kids.
"You're not just thinking about how you would relate to somebody, you're thinking about how your children would relate to someone. It's a whole different thing."
Aside from her responsibilities as a mother, the Gossip Girl star's career has left little time for much else. "When you're a working mom, you're just busy all the time," she notes. "There's just never enough time in the day."
The same couldn't be said before having children, however. "There was a day years ago when I probably would've been bored between takes, but now it doesn't happen," Kelly admits. "I have so much to do. It actually enriches the work, I think."
That said, if Kelly finds herself in need of a night out on the town, she need not look far for babysitting services! After bringing both kids along to the set of Gossip Girl, Kelly's co-stars Blake Lively and Leighton Meester have made it clear that they are always on call. "I say, 'Alright, when you guys are done with all the exciting stuff in your life, come on over to my house, we'll hang out and you can babysit," Kelly jokes. "It's so sweet — it's so cute."
Click below to read about how Kelly's kids are bonding.
While Kelly may be far off from a relationship of her own, in the meantime, she is fully enjoying watching the budding sibling bond between Hermés Gustaf Daniel, 3, and her "little Buddha" baby Helena Grace, 7 months this week. "It's so beautiful," she raves.
After the initial month of transition as her son adjusted to becoming a big brother, Kelly reports that there is nothing but love between the pair.
"Now he wakes up in the morning and wants to feed the baby. He's telling me how to hold the bottle if I feed her, if I feed her with a bottle. He wants to kiss her, he does little tickles. He's so cute. He loves it."
Having nursed Hermés past his second birthday, Kelly has followed suit with Helena. The second time around, however, has been made easier with the use of a breast pump. "I also pump, which I didn't with him, but it's still breast milk," she says.
Breastfeeding and being a new mom has its benefits, notes Kelly! "I was thinner after I had my son and then again after with the baby," she says. Her secret? "I think it's just being a real hands-on mom. I'm running after the kids all day," she explains.
"My mother just watches me — she says, 'You never need to go to the gym because you're constantly picking them up or running in the park with the kids.'"
Source: OK!
— Anya