Bryce Dallas Howard on the 'Constant Question' of Working Moms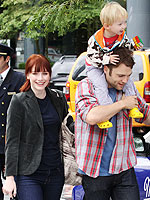 Bauer Griffin
When Bryce Dallas Howard was cast as the lead in M. Night Shyamalan's Lady in the Water, little did she know that her life was about to undergo an even bigger milestone. Not long after the film wrapped the 28-year-old actress learned she was expecting her first child — Theodore 'Theo' Norman, now 2 ½ — with husband Seth Gabel.
Motherhood forced Bryce, daughter of actor-director Ron Howard, to move her career from the fast lane to the slow lane, at least temporarily. "The first two years before my son started preschool I didn't work much because it was like, 'How are we going to juggle it?'" she reveals in a new interview.
"And now that he's in preschool, working outside of L.A. is like this whole other thing because I can't be away from him for more than a few days. It's a constant question, but like with any working mother, it's something that you figure out."
Fortunately, Theo's nanny has been beneficial in more ways than one! Bryce credits her with teaching the actress a believable Southern accent for her new role in The Loss of a Teardrop Diamond. "She's from South Carolina, a real southern belle," Bryce reveals. "To hear her all the time, it's like 'You're kidding me. Really? You sound like that?"
The Loss of a Teardrop Diamond is in limited release now.
Source: VX50.com