Sarah Jessica Parker Not Striving for Perfection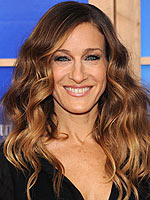 Bryan Bedder/Getty Images
As she juggles a busy career with an even busier personal life Sarah Jessica Parker says she has two very tiny allies in her effort to do it all: Twins Marion Loretta Elwell and Tabitha Hodge, 6 months.
"At the moment the twins sleep a good six or seven hours, and wake up as late as 7 a.m.," she raves to the Daily Mail. "They are being incredibly cooperative!"
Along with the girls' big brother James Wilkie, 7, Sarah Jessica says that her children have been — and always will be — the priority. "You do everything you can to make sure they are content," she explains. "And you get into bed at night thinking of all the things you did wrong, and you hope things will be better the next day."
Opining that "women tend to put more pressure on themselves to do everything exceptionally well," Sarah Jessica says that she isn't striving for perfection, something she describes as "an impossibility."
"But most working mothers probably do a lot better than I do, with far less support than I have. So I don't think that I'm any champion. I muddle through the best that I can."
Life as a family of five with husband Matthew Broderick is "daunting," but Sarah Jessica is quick to point out that the couple "welcome the chaos." She adds,
"And as they get older there will be more chaos, once they start talking and crawling around and getting into mischief. It will be insane, it will be wonderful — and it is exactly what we wanted."
Click below to read about whether Sarah Jessica supports a career in acting for her children.
Although they "don't really have any quiet time at the moment," Sarah Jessica, 44, says that she and Matthew are often able to spend Saturday night together after the children are in bed. "Any time spent alone is great, when everybody else is quiet and asleep…[Although] that is very rare," she says.
The twins have brought with them "unspeakable joy," and Sarah Jessica delights in watching her "tiny little girls just figuring out who they are." James doesn't always share his mom's enthusiasm — "babies are not terribly interesting to a 7-year-old," Sarah Jessica notes — but "he's very proud to be an older brother."
"I think your first-born is a special experience: we have a remarkable young boy in our lives and now I feel really grateful that he has siblings to share his good fortune. I belong to a big family, so I know the value of having brothers and sisters."
As for whether or not she'd be in favor of an acting career for any of her children, Sarah Jessica says there is no hard and fast rule in place.
"I don't think I would encourage my children to pursue acting until they had gone to college, but then if that's what they were to choose I would be supportive," she explains. "James Wilkie doesn't show any interest so far, and the twins are not expressing anything other than a desire to be fed and have a nappy change."
Source: Daily Mail