Review: Kelty's Upgraded Kid Carriers for 2010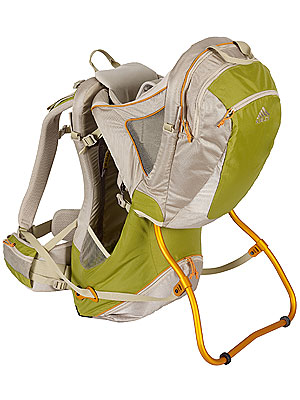 Courtesy of Kelty
Celeb favorite (Liev Schreiber, Melissa Joan Hart and Patrick Dempsey are fans) Kelty is known for its comfortable, well-made kid carriers (read our review of the FC 3.0 model here).
So we were excited to hear they were updating a few styles for 2010. Check below for our thoughts on the new tweaks and whether or not the new styles are worth the investment.
Click below for our review!
Things we like:
New for 2010, the FC 3.0 ($250), the FC 2.0 ($200), the TC 3.0 ($180) and the TC 2.0 ($150) all come with a waistbelt torso length adjustment.
This is a huge upside for parents who differ drastically in size because it allows baby to ride lower than they could with previous models. As a result, a lower center of gravity is created, leading to better balance and better overall comfort for mom or dad.
The 2010 version of the FC 3.0 is still fully padded so it's still super comfortable. It also features a sun/rain visor, ventilated cockpit, an auto-deploy kickstand for easier loading and unloading and tons (1,150 cubic inches!) of storage space. The FC 2.0 is essentially the same, minus the sun/rain hood and change pad.
Want a carrier that's less unwieldy? Check out the TC 3.0 and the TC 2.0. With a smaller frame, they're much lighter than the FC's, but they have all the same safety and comfort features including a five-point harness and breathable mesh fabric.
Lastly, Kelty has introduced three new color schemes — curry, green and blue — with contrasting accents that take their carriers from drab to fab.
Things we don't like:
We couldn't find anything we didn't like. We give all the improvements a thumbs up.
CBB Rating:
If you're in the market for a new carrier, Kelty's new 2010 styles are worth snapping up.