Steal That Style: Cozy Stroller Foot Muffs
Unfortunately, winter often brings frigid temperatures, which means on-the-go parents have to bundle up their little ones even more while strolling around as these celeb parents prove. Pete Wentz and wife Ashlee keep Bronx cozy with the Maclaren foot muff while Michelle Williams opts for the brightly colored 7 A.M. Enfant B212 Evolution for Matilda.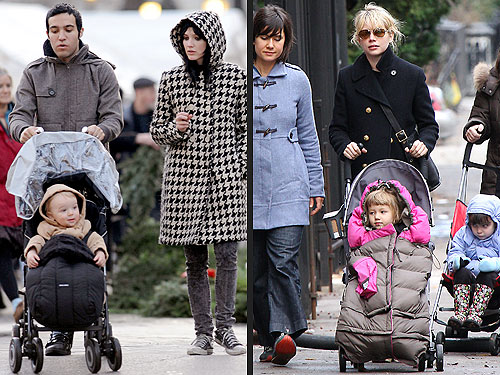 Splash News Online(2)
Ready to brave the cold with your kids? Check out our stroller foot muff picks below!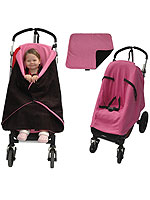 Napwell Toddler Feet Free Stroller Blanket
Luxe:
A twist on the traditional foot muff, Napwell Toddler Feet Free Stroller Blanket set ($99) lets growing kids feel less like a wrapped up baby. Simply insert the stroller liner and wrap the fleece lined flaps around your child's lap while their feet go free. Dirty snow boots never touch the blanket, ensuring less laundry for you!
Made of a waterproof shell that keeps even the coldest winds out, the 7 A.M. Enfant le sac igloo ($124-$164) includes an ergonomic zip-up hood to keep your baby's head toasty! On a mildly cold day, simply unzip the detachable cover and use it as a stroller blanket. Celeb fans include Jessica Alba and Isla Fisher.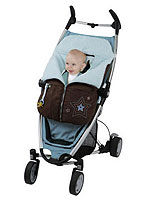 Banana Fish Stroller Blanket
Affordable:
Available in both pink and blue, the Sherpa-lined Banana Fish Stroller Blanket ($40.50) is a great pick. With a center zipper for easy access to baby, a pacifier holder and two small storage pockets — this foot muff has it all!
First appearances are important and JJ Cole Toddler Urban Bundle Me ($63) makes the cut and then some! The soft chamois lining and chic quilt design are beyond drool-worthy. Plus, it's one-size-fits-all so it lasts as long as you need it.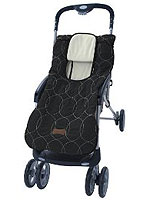 Baby's CozyWorld Cozy Cuddler
Bargain Buy:
At only $30 a pop, the Baby's Cozy World Cozy Cuddler ($30) is a steal! For babies as young as a month old, this stroller cover —which can be worn zipped up or down depending on the temperature — will keep your tot snug in even the coldest weather!
Not your standard foot muff, Nuddle Baby ($38) is a stylish stroller blanket that includes foot pockets and openings for a 5-point harness. Mini toes stay toasty, but the blanket-like top half lets your child move around freely. It comes in your choice of oatmeal, bubblegum pink and cloud blue.
— Anya