Jude Law Says Children 'Make a Man of You'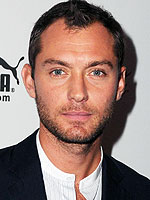 Landov
As he promotes his new film Sherlock Holmes, in which he plays the character of Dr. Watson, Jude Law says that it is the role of "dad" which continues to take precedence. Asked by PARADE what's most important in his life, the 37-year-old actor replies "being a daddy is what counts."
Noting that he's been "busy rehearsing" the role for more than ten years, Jude couldn't help but reflect on how fatherhood has changed him in ways big and small.
"I used to sleep until noon, but it's not so bad to have to get up at 7 and give them breakfast. My daughter made me realize that if there's anything that's going to make a man of you, it's having your will broken by a little girl."
Sherlock Holmes is in theaters now. Jude is dad to Rafferty, 13, Iris, 9 and Rudy, 7, with ex-wife Sadie Frost, as well as 3-month-old Sophia with Samantha Burke.
Source: PARADE