Angelina Jolie's Littlest Fans: Zahara and Shiloh!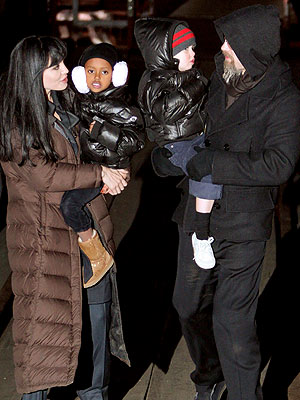 Mr. Nunez/BuzzFoto/FilmMagic
Straight from the set of her upcoming thriller Salt on the Westside of Manhattan Monday, Angelina Jolie went into mommy mode, hoisting daughter Zahara Marley, 5 next week, as Brad Pitt held daughter Shiloh Nouvel, 3.
The family was decked out like true New Yorkers — almost entirely in black — with Brad still sporting his much-discussed braided beard.
The girls wear Appaman Puffy Down Coats in Black ($90). Zahara wears Ugg's Kids Classic Max's Crown while Shiloh wears Superga 2750 in Silver Lame ($55).