Jennifer Lopez Brings Family, Career Together For a Balanced Blend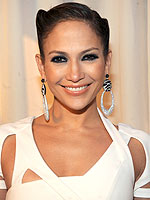 Kevin Mazur/AMA2009/WireImage
After achieving her dream of becoming a mother in February 2008, Jennifer Lopez took a well-deserved break from the spotlight — but refused to put her career completely on the back burner. Instead, Jennifer — like all parents, she notes —  has simply learned to sort through the challenges of working motherhood.
"For anybody who has children, your priorities change as a mom," she explains. "You just have to…always work everything around their happiness…and their well-being."
To that end, in an effort to make time for it all and keep her family close, Maximilian David and Emme Maribel, 22 months, will join the songstress on her upcoming tour for her new album Love?, out early next year. Fortunately, the transition is sure to be smooth as keeping their mama company on the job isn't anything new for the twins!
"Sometimes we have them in the studio, sometimes I'm just like, 'Let me go in really quick and get back home really quick,' but it's always with them in mind."
Dad is Jennifer's husband, singer Marc Anthony.
Source: Access Hollywood
— Anya