Layla Kayleigh's Blog: Melody Snuggles Up to Santa!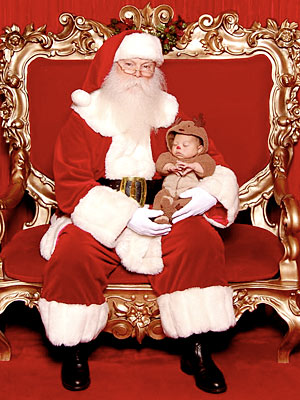 Courtesy Layla Kayleigh for use on CBB
Check out the second installment of Layla Kayleigh's blog below!
The America's Best Dance Crew co-host is letting CBB readers follow along as she tackles first-time motherhood — daughter Melody Rain is now 8 weeks old. If you missed her first entry, click here to read!
Melody the Red-Nosed Reindeer Meets Santa
We decided because this was Melody's first Christmas, we would take her to go get a picture with Santa. There's a cool place in Los Angeles called The Grove where they have a really awesome Santa house every year.
I bought this reindeer outfit from Diapers.com (which is an awesome site for parents, they have absolutely everything, impeccable customer service and two day delivery!) to wear for the holidays, so I thought what better time to wear it than to meet Santa for her first time?
I must say the holidays have become so much more important to me after having a child.
I know that one day Melody will look back on her memories—and even though she's too young to realize now what's going on—I want her to have pictures to look back on and know how loved she was.
Who we are today is molded by our experiences as children, so I want to do everything I can to give Melody the best childhood ever, starting with her first Christmas.
As far as meeting Santa went, I doubt she'll ever remember it; especially since she slept through the whole thing! I was trying to wake her up while we were in line, but she was in dreamland dreaming of lots of milk and boobies I'm sure!
Even the nice Santa elves were trying to wake her up with soft bells, but nothing was working. However as soon, and I mean as soon as we walked out of Santa's house, Melody woke up and wanted to play! Go figure.
At least when she's a little older, I will be able to show her a picture of when she met Santa as evidence. Because everyone knows Santa is a busy man and doesn't make appearances too often! 😉
Wishing you and yours a happy holiday season!
Much love,
Layla