Review: Britax Blink Stroller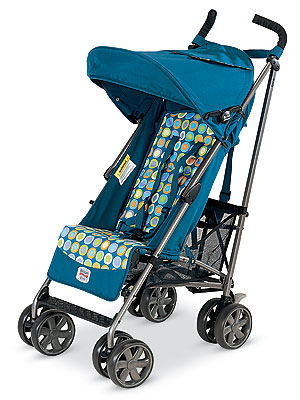 Britax Blink Stroller
Britax has recently introduced several new strollers, including a new lightweight stroller — the Blink ($149, currently on sale for $99).
With several fun patterns, this 16 lbs. ride is perfect for cities or as a second stroller!
Click below for our review!
Things We Like:
A true umbrella stroller, it comes with a full-coverage canopy that took about two minutes to attach — the wheels and basket are already on. The under-seat storage is decent-sized, plus it features a pretty roomy storage pouch on the back of the hood.
Just don't hang too much weight on the back or you'll risk tipping it over (good advice for ANY umbrella stroller). We loved that it came with a carry strap and a transport bag — very helpful for airplane gate storage. It also has one-foot, linked rear brakes so one step will lock both wheels.
Recommended for children from ages 6 months up to 55 lbs., this stroller will perform well on city streets or for quick in-and-out of the car errands. It's got a tight-turning radius that's perfect for maneuvering around small aisles and spaces. It's also super easy to carry up and down subway steps.
Things We Don't Like:
At 16 lbs., it's not the lightest lightweight stroller out there. And it doesn't come with a rain cover, but any standard umbrella rain cover should work fine.
CBB rating:
We think the Blink is a good choice for a lightweight/travel stroller. Since the price has recently dropped to $99, it's also a great option for a second stroller.
-– Nancy