The Facinelli Five's Merry Morning!
On Christmas morning Peter Facinelli and his wife, Jennie Garth, look forward to the moment when their three daughters burst through their bedroom door around 7 a.m., crawl across the covers and announce it's present time.
"They try to let us sleep in, but they're so excited they can't wait," says Jennie. "They look so innocent, excited and full of expectation." Adds Peter of the girls' pure joy: "Their faces are lit up like no other time of year."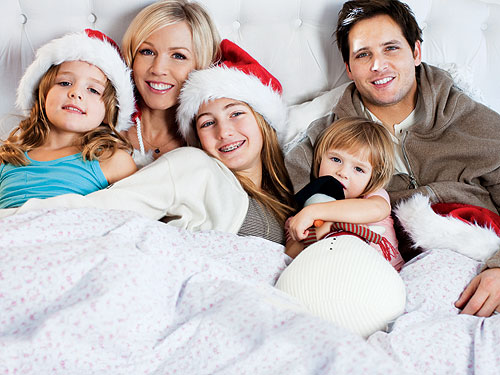 Jonathan Skow for PEOPLE for use on CBB
Read the rest of the story and see more photos below!

Call it the Facinelli Christmas Glow — which sparks from a love for the holidays that they couple have handed down to their daughters Luca Bella, 12, Lola Ray, 7, and Fiona Eve, 3. "Holidays were always important to my family," says Peter, 36, who wants to pass down the same lesson that he learned from his Italian immigrant parents about the Christmas season. "It's about being together and celebrating."
Lately quality time for the Facinelli Five has been fleeting: The New Moon actor spent this past fall shuttling between the Vancouver set of The Twilight Saga: Eclipse — the third chapter of the wildly popular vampire series, due out next summer — and New York City, where he films his hit TV drama Nurse Jackie opposite Edie Falco.
In the meantime, Jennie, 37, has been holding down the fort at their L.A. home, juggling their daughters' car-pool schedules and her gig on the CW's 90210. But this year the holidays have reunited the entire clan in their own L.A. zip code, where Peter's main focus is recruiting his daughters to help outfit their colonial-style home with decorations ranging from Santa pillows to singing Christmas trees.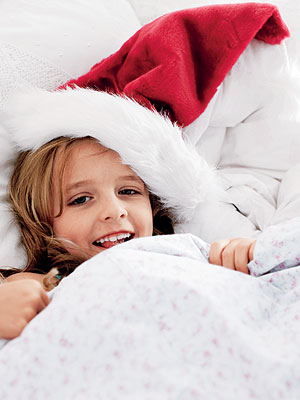 Jonathan Skow for PEOPLE for use on CBB
"I want to make sure I'm there with my kids," says Peter. "They grow up quickly, and I want them to really experience each holiday. So we make sure every one of them is filled with joy and love."
And plenty of fun. As soon as his daughters open their eyes on Christmas morning, each discovers a new snow globe awaiting them. "Santa leaves them in their room by their heads," says Jennie.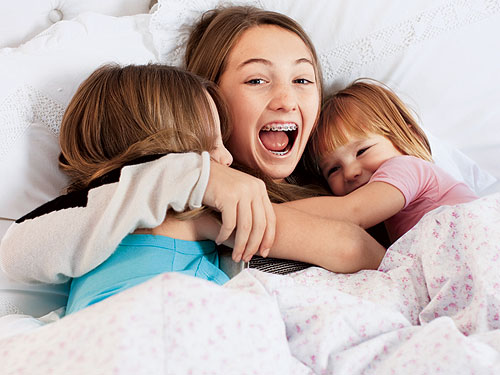 Jonathan Skow for PEOPLE for use on CBB
The little Facinellis then flock together before descending upon their sleeping parents and dragging them out of bed. "We come downstairs in our jammies," says Jennie, "and we light a fire even if it's hot outside."
But not before the bed-headed bunch surveys the area around the fireplace where a certain Mr. Claus usually leaves an untidy trail — much to the delight of the actor's daughters.
"He leaves dirty soot footprints and cookie crumbs everywhere!" Peter says of their annual visitor, who devours homemade sugar cookies that the girls put out the night before. "The reindeer are very messy too," adds Jennie. "They always leaves carrots all over the place!"
All is forgiven once Luca, Lola and Fiona add to the mess as they attack their own towering piles of gifts. "There is the ruckus of paper-ripping and boxes being thrown about," says Peter. "Peter's hands get numb by the end of the day after opening so many plastic packages," adds Jennie.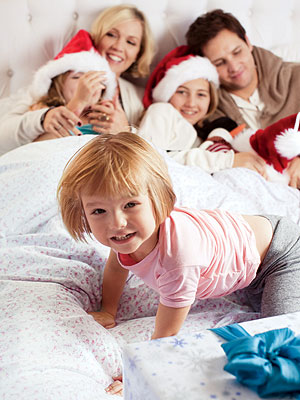 Jonathan Skow for PEOPLE for use on CBB
The scene brings the actor back to the Christmas mornings he spent with his three older sisters and boisterous extended family growing up in Queens. "I have memories of ripping open presents," recalls Peter.
A thousand miles away, Jennie's holidays were much more serene on her family's sprawling farm in rural Illinois. "I can remember riding horses in the snow," says the actress. "It was idyllic, and the essence of Christmas was everywhere."
The same could be said for the Facinelli family room once all their Christmas loot is unwrapped. "We tear through everything until it looks like a bomb went off!" laughs Jennie. But even though they're surrounded by scraps of ribbon and wrapping and half-opened boxed bursting with assembly-required toys, "there's such a peaceful feeling about the day," says Jennie. As Peter puts it, "It's heaven."
Source: PEOPLE, Holiday issue
— Elizabeth Leonard