Sarah Jessica Parker Considers Doll Shopping 'Very Exciting'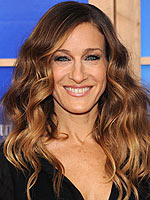 Bryan Bedder/Getty Images
As she looks forward to her first Christmas as a mom-of-three, actress Sarah Jessica Parker says that her new twin daughters Marion Loretta Elwell and Tabitha Hodge, 6 months, have forever changed her shopping patterns.
"I bought dolls for the first time in my life, it was very exciting," the 44-year-old Sex and the City star tells the Associated Press.
Don't look to Sarah Jessica to consult with a gift list, however. "Like all women across the globe," she says while gesturing to her head, "it's all here."
"We don't need to write down things. We don't need to make lists!"
That said, there were definite plans in place for how her family — which includes husband Matthew Broderick and son James Wilkie, 7 — would be spending the holiday. "I can't wait and get the house ready," she confessed.
"We're going to buy our tree on the 19th. It will stand naked until Christmas Eve, and we'll put the children to bed and we'll decorate the tree when the children are in bed. We'll leave cookies and milk for Santa, and oats for the reindeer, and wake up Christmas morning and they'll start ripping through presents."
Sarah Jessica's new film Did You Hear About the Morgans? is in theaters now.
Source: Associated Press
— Missy