Gerard Way Says Bandit's First Christmas 'Is a Really Big Deal'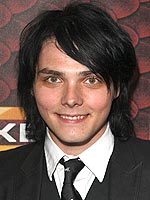 Jason Merritt/FilmMagic
My Chemical Romance singer Gerard Way is pulling out all the stops for his 6 ½-month-old daughter Bandit Lee's first Christmas! "It is a really big deal," he notes in a new interview with Spin. "It's very exciting — even though no matter what we get her she's not really going to realize what it is."
From the sound of things, baby girl's Batman costume is just the beginning. "We got her some fun outfits," Gerard reveals.
"We still want to get a really lousy Sears picture of her so we're gonna try to do that next week…[one with] a really sh-tty paper backdrop."
It's been a big year for Gerard, who entered the studio just two weeks after Bandit's birth. His band's as-yet-untitled album — due in stores this spring — was "more challenging than the baby," he says, "and the baby was really challenging."
Revealing that he was "pretty worn out," Gerard adds,
"I didn't shave for weeks, looked horrible, and ended up getting all these dreadlocks in my hair. I was never showering. I would show up in a t-shirt covered in baby puke — you can pretty much picture the glamorous nature of that."
As soon as enough material had been recorded, Gerard would "rush right home" to help out with Bandit — not that he's complaining! "It made the recording process take a little bit longer, but it made the process more enjoyable," he says. "I don't think there was a single night where I was in the studio past like 10 or 11 — I genuinely wanted to get home."
Bandit is the first child together for Gerard and wife Lindsey 'Lyn-Z' Ballato.
Source: Spin
— Missy