Caught Caring: Tori Spelling and 2Family.org
Millions of children will tear into a pile of presents tomorrow morning, many moving so fast they barely have time to process what's happening, and your children might be among them. Tori Spelling — mom to Liam Aaron, 2 ½, and Stella Doreen, 18 months — did her part last week to make sure numerous disadvantaged youth have at least one present to look forward to on Christmas Day, however.
The 36-year-old reality star and husband Dean McDermott spent December 16 wrapping gifts for 2Family.org. A revolutionary new non-profit organization, it seeks to "remove the distance that alienates struggling children from the worlds generosity."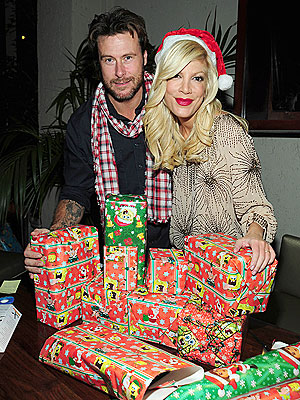 Albert Michael/Startraks
2Family does so by connecting adults with youth who are trying to overcome obstacles like homelessness, violence, addictions and more; The adult donates an inspirational item and message, which is delivered to the child, who in turn writes a thank-you note. 
All correspondence is handled by 2Family, so that the privacy of both donor and recipient is protected.
2Family does its best to find discounted items to keep costs to a minimum.
Through its website donors can search for a child in need by numerous criteria — including challenges, interests and career dreams — or, if a donor prefers, it's possible to search by item, narrowed down by price range.
Each participating child has a brief biography, detailing their strengths and the areas in which they struggle.
For information on how you can become a 2Family donor, click here.