Keisha Whitaker's Holiday Tea Party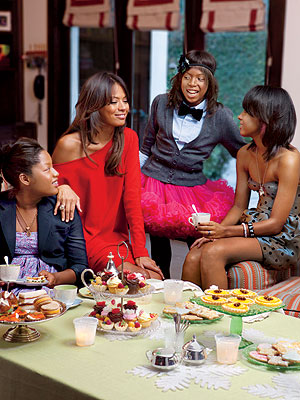 Jessica Herndon for PEOPLE for use on CBB
On the night of a movie premiere, Oscar-winning actor Forest Whitaker gets all the attention.
But every year his wife, Keisha, 37, throws a Christmas tea where their three daughters — Autumn, 17, Sonnet, 13, and True, 11 — are the guests of honor.
"Teatime is like a special occasion," says Keisha, an Oprah.com writer who got the idea after celebrating Autumn's fifth birthday at an L.A. hotel that hosted a teddy bear tea party.
Instead of going to hotels each year, Keisha decided to bring the fun home and throw a holiday tea party for her girls, who still enjoy the tradition, even if they're past the days of plush toys.
"It's something they look forward to," she says. Plus, "it gives you an occasion to dress up and spend time with each other."
Source: PEOPLE, Holiday issue
— Jessica Herndon
Click here to see yesterday's cutie!