Alyson Hannigan 'So Fascinated' by Satyana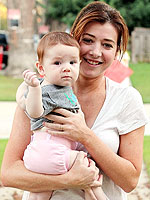 Gaz Shirley/Pacific Coast News
At just 9-months-old, Satyana Marie Denisof has already developed quite the sense of humor! So says her mom, actress Alyson Hannigan, in a new interview with Working Mother.
"She plays jokes on me when I try to put her to bed," the 35-year-old How I Met Your Mother star reveals. "This one time, I told her that 'it's time for bed' and she has to go to sleep. She put her head down when I said the word 'sleep' and as soon as I got to the door, she would prop herself up and start laughing. She did this at least 12 times."
Taking time to savor such moments is something Alyson says she's careful to do, noting that "there's so much that happens the first year." She adds,
"I could watch her all day long, just to see her discovering new things…I'm so fascinated by her."
To that end, Alyson says her favorite moments of the day are those spent quietly with Satyana, "just sitting back, slowing down and going into her zone."
"The most joy is when I can just be on the floor with her and watch her play with one of her toys, or discover how to put her toes in her mouth — something very baby-like."
Click below to read Alyson's thoughts on sharing a birthday with Satyana.
There is at least one scenario that Alyson says she could live without, however: The overnight diaper change! Praising husband Alexis Denisof for being a hands-on dad, Alyson nonetheless says that this is an area in which he could improve. "It's like, 'Could we take turns?'" she jokes.
During the day Alyson is singing a different tune, for she is able to bring Satyana to work. "They've set up a nursery," she shares, "so I get to go in and feed her, nurse her and change her diaper."
Acutely aware of how lucky she is to have such an arrangement in place, Alyson says she feels "blessed" to be in a position to work alongside her daughter. "I just don't know how I could be away from her for that long [otherwise]."
Getting to work is often an exercise in futility, however! "The things that used to take an hour … now take two hours," she notes. "Even when I'm right on schedule, she'll spit up and I have to start all over again."
Not that she's complaining! Alyson adds,
"It's just the most rewarding aspect of my life so far. All the clichés are so true. I just love her so much."
Fittingly, both mom and baby share a birthday and Alyson says she wouldn't have it any other way. "I'd rather it be on my birthday than sort of near it, because then somebody would get jipped — and it would obviously be me," she quips. "This way, I get to have some of her cake!"
Source: Working Mother
— Missy