Sarah Jessica Parker on the 'Privilege' of Raising Twins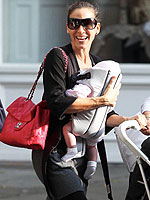 Santiago Baez/Ramey
When Sarah Jessica Parker and Matthew Broderick — already parents to 7-year-old James Wilkie — set out to expand their family, they got their wish and then some!
"We didn't want twins but we wanted a bigger family and this is what we got," says the mom to twins Marion Loretta Elwell and Tabitha Hodge, 6 months. "It's a blessing, it's a thrill, it's a privilege but it couldn't be more different."
Noting that just one baby "is daunting in the beginning, with all the paraphernalia," Sarah Jessica adds,
"It's shocking. The diapers, the ointment, the bottle, the pacifier, the baby blanket, plastic bags so you're not leaving a dirty diaper at someone's house or a restaurant, God forbid, wipes, baby Tylenol. The list goes on and you need it all, it's not a joke. Times two."
The addition of the twins has made the couple — married since 1997 — more efficient parents, however, approaching outings "like a military operation" and keeping the girls on a strict schedule.
"Otherwise you'd be either feeding or changing 24 hours," Sarah Jessica, 44, points out.
"Honestly it's funny. It's comedic. There is so much organization and advance planning that happens…Plus we have a seven-year-old and he has needs too though they're different. The bag is lighter."
Citing H1N1 fears — "[the twins] are too young to get the shots," Sarah Jessica says — the family of five has been sticking close to home, but it's only temporary. "We travel a lot as a family," says the Sex and the City star. "I relish the idea of being in a different place."
Source: PopEater