Mark Wahlberg, Rachel Weisz Reveal Approach to The Lovely Bones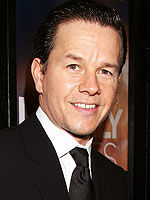 Dave Allocca/Startraks
The subject matter of The Lovely Bones was disturbing for millions of parents, but for the actors charged with the task of bringing the bestselling book to life, even more so.
Mark Wahlberg — a soon-to-be father-of-four — praises costar Rachel Weisz for her ability to "just snap into it and have these floods of emotion coming out and then turn it all off." By contrast, Mark says that because of the way he approaches his job "he had to live in that head space for the entire time."
That much was evident when he would return home after a long day on the set. Admitting that he's "still learning to juggle" the emotional ramifications of the role, Mark reveals "I would … just grab my daughter and hold her, and I would start crying."
"She'd be like, 'Daddy, what's wrong?' She just wanted to play. And, I would try to talk to her about taking care of herself and not talking to strangers. She was three at the time. But, thankfully, I had another movie to go to that helped me get out of that."
For Rachel, mom to 3 ½-year-old Henry Chance, it was just another day at the office! "As an actor, you have to imagine all sorts of things," she notes. "I had to imagine that I was a young woman in the 1970's. I had to imagine that I was American. You imagine beautiful things and you imagine ugly things. That's my job."
"I just don't think that something is too dark or problematic to go to. I don't know why, but I just don't think that way. I've learned to come out of it. I'm a mother in real life, so I can't go home to my kid in a state of despair and tears. You have to learn to juggle that. Bad things happen in stories."
Noting that "there are also very beautiful, uplifting things about this film," Rachel has no regrets. "I guess the uplifting theme of the film is that life is a treasure, precious and a miracle," she says. "I just wanted to go and hug my son tighter. It's hard to remember that life is a miracle. You can't forget that."
Mark and wife Rhea are parents to Ella Rae, 6, Michael, 3 ½ and Brendan Joseph, 15 months. The couple are currently expecting their fourth child, a girl. Henry is Rachel's first child with fiancé Darren Aronofsky.
The Lovely Bones is playing in select cities now and hits theaters nationwide on January 15th.
Source: MoviesOnline