Ivana Firestone Dishes On Her 'Little Senator'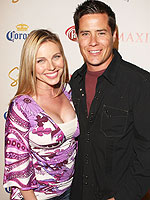 Jason Merritt/Getty
Former Bachelor star Andrew Firestone and his wife Ivana are hoping Christmas comes a bit early this year.
Set to celebrate their first holiday season with their 9-month-old son Adam Brooks, Ivana tells Us Weekly that the couple would love nothing more than for their baby boy to finally get the hang of crawling.
However, the proud mama isn't complaining. With plans to expand their family in the near future — "the sooner the better" — Ivana admits easy-going Brooks makes the thought of more babies quite tempting! "Brooks is such a dream baby, it makes me want to have a million," she raves.
And while he may have inherited his parents' stellar smiles, his best attribute by far is his head of hair! "He has the perfect comb-over," Ivana jokes.
"He looks like a little senator."
Source: Us Weekly
— Anya