Constance Marie Warns Late-in-Life Moms: Time May Be Running Out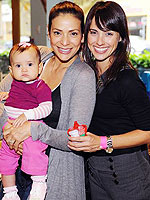 Stefanie Keenan
If there was one thing Constance Marie wasn't thinking about as a little girl fantasizing about her future, it was children.
A true tomboy, Constance never considered motherhood her calling. "I just didn't grow up with that same desire to be a mom that many girls and women have," she explains to Conceive magazine. What's more, according to her, for good reason!
"To be honest, I've always been a little afraid of kids. I secretly thought they didn't like me."
However a string of events later in life led her on an unexpected path to motherhood. After adopting a local elementary school where she would spend time reading to the students, meeting her now fiancé Kent Katich and being cast as a mother in several movies — Tortilla Soup and Selena — having a child seemed like an inevitable next step in life.
The fact that she was quickly approaching 40 — and still not quite ready for a baby — wasn't an issue for Constance. "I would read all of these stories about women having babies later on in life, and Latin women are known to be fertile!" she admits. "So I figured, 'I have plenty of time.'"
The reality of the situation, however, soon turned from an excited couple looking forward to starting a family to one who dreaded discovering each month they had not yet conceived.
"At first you're both like, 'Yeah! We get to have sex all the time!' Then after a few months you're like, 'Ugh, we have to have sex all the time.'"
Click below to continue reading about Constance's fertility struggle.
Following ten months of trying to conceive naturally, Constance underwent a series of tests to determine her fertility. After undergoing "so much pressure and pain I didn't think I could handle it" during a hysterosalpingogram — an x-ray test that examines the inside of the uterus and fallopian tubes — doctors broke the news that Constance had indeed sustained damage.
"The doctor said he couldn't even find my fallopian tubes, they were so blocked — the ink couldn't even get in there," she recalls.
The next step — in vitro fertilization — was one that left the couple feeling unsettled. "We are very earthy, organic people, so I didn't want to pump hormones into me," she explains, adding that she then opted for insemination while taking Clomid. During one of their trips to the office, the couple were horrified when their doctor accidentally spilled Kent's sample on the floor!
"Now I can laugh about it, but at the time you think, 'That might have been our baby!'"
Faced with disappointment once again, doctors revealed that their insemination treatments were unsuccessful and advised Constance to undergo a second hysterosalpingogram. This time, the results looked promising.
"We don't know if it was the dye from the first round that cleared them out — sometimes that does happen — or if the first doctor just didn't know what he was doing," she shares, adding that the news was a "huge relief."
After believing they had finally achieved their dream, happiness turned to heartache during an early doctor's visit. "All that was there was an empty sac," she remembers. "My body was pregnant, but the fetal cell had not developed. It was such a radical emotional shift."
Her feelings were put on hold as she was due to film episodes of The George Lopez Show just two days later. "It was hard not to feel down," she confesses. Fortunately, her immediate return to work proved to be a good dose of medicine for Constance. "Since I had decided not to tell anyone…I couldn't show it. I had to be pumped, so work was actually a good distraction for me," she says.
Her determination to keep trying for a baby was unwavering despite even more disappointment. "I knew we would have a family one day, I just wasn't sure how it would exactly come about," she says. The couple faced a second miscarriage before finally turning to IVF, which saw Constance enduring daily hormone shots to prepare her body.
"I have to admit I was a nightmare. I was so emotional and my temper — oh my! I screamed at Kent once — the profanity that was coming out — I was, like, did that voice just come out of my mouth? I need to lie down!"
In an effort to ensure her the best chance at becoming pregnant, Constance researched countless possible causes for infertility. "I learned about BPA, and how it leaches out of plastic bottles and food containers when they're scratched or heated. It acts like estrogen…causing fertility issues," she explains. "So all plastic went out the window, and we started using glass containers." Her other remedies included cleanses to detoxify her body of mercury, Japanese enzyme baths, and acupuncture. "I was basically willing to try anything to get pregnant!" she laughs.
Finally, when a doctor suggested she rid her system of all hormones before implanting her embryos — "this actually helped weed out the embryos that weren't the strongest," Constance notes — she and Kent finally received the news they had been hoping for: A baby was on the way!
"We were absolutely thrilled, but after what we went through, we were definitely cautious at first about telling people."
After an exceptionally great pregnancy — even appearing on an episode of The Secret Life of the American Teenager when she was eight months along — Constance and Kent welcomed daughter Luna Marie on February 5th. Baby girl was delivered via c-section when an ultrasound estimated her weight at around 9 lbs., 7 oz.
"I have a photo of my uterus sitting outside my body like a big Butterball [turkey] proudly displayed in my home office. It is like my purple heart! Going through this, it is amazing how strong women are, and how much we can handle. If men had to have babies, there would be only about 12 people in the world!"
Obviously elated with motherhood, Constance jokes that Luna is already making her mama proud! "She only really cries when she's hungry, and she is a great sleeper," she raves. "I think she knows how much I love to sleep, so she's a good sleeper. It makes me love her even more!"
By sharing her struggles with the world, Constance is hopeful women will consider the possible risks that come with starting a family later in life. "I didn't want anyone to see that I just had a baby at 43 and think it was easy for me," she states.
"I completely understand why women wait to have children — no one wants to do a bad job. I'm supportive of women getting to a place in life where they're ready to be a mother. I just want to say we might not have as much time as we think we have."
Source: Conceive
— Anya