Sarah Jessica Parker Raves About Her 'Darling Little Girls'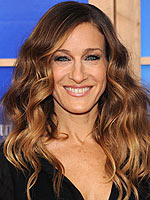 Bryan Bedder/Getty Images
While some parents mellow with each subsequent child, Sarah Jessica Parker has found the opposite to be true.
In a new interview with PARADE, the 44-year-old actress says that after son James Wilkie, 7, was born she would "walk up the stairs to his room" if she heard crying. With twins Marion Loretta Elwell and Tabitha Hodge, 6 months this week, however, there's a greater sense of urgency! "Now I'm running up and down the stairs like a lunatic, barely holding on to the banister," she reveals.
"I don't think you worry less in general. I think I'm still woken in the middle of the night by some horrible thought that I've conjured in my brain. Every time there's a visit to the pediatrician, I worry. Is everything all right?"
Life as a family of five continues to suit Sarah Jessica and husband Matthew Broderick just fine, with the seamless addition of the twins this summer. "It's sort of beyond description," she says. "It's a very, very lucky, wonderful time in our lives that we have these two darling little girls and we're very happy."
Balancing her busy career with her even busier private life is tricky — but doable — and Sarah Jessica is careful to point out that she has help. "I honestly think there are millions and millions of working mothers who have far more demanding days and the rewards are nowhere near what I've been given," she says.
"They don't have the kind of help that I have if I need it. I'm allowed to be a working mother because frankly, I can leave my child with someone I trust and love and a lot of mothers can't do that."
Click below to read about how Sarah Jessica's style has changed since becoming a mom.
Loretta and Tabitha "could not be more different," Sarah Jessica says, and those differences are both physical and emotional.
"It is hilarious, one of my daughters is round-headed and she has my complexion," the Sex and the City star notes. "She's olive, she has big brown eyes and she is literally constantly looking around and reaching out. I mean, I don't know how she manages to sleep." The other baby girl, however, takes after dad. "She is white-skinned with little blue bedroom eyes and red hair," Sarah Jessica says. "She's very serious and slightly withholding and aloof."
Although she has a well-earned reputation as a fashion icon, Sarah Jessica says her style has taken a hit since becoming a mom. "If I'm not working, I'm really just wearing whatever is right to get out of the door," she insists.
"I take my son to school in the morning. When it's freezing outside, I've got to convince him to put a hat on and boots on and he resists. By the time he's dressed, I just have time to grab anything handy and run out the door."
She goes on to note that there is not much point in dressing to the nines when Loretta and Tabitha are on the scene, either!
"I … have two daughters in diapers who are drooling, teething and spitting up," Sarah Jessica points out. "You don't want a designer outfit in that situation. So you just wear what's appropriate to be a mother."
Source: PARADE