Kelly Ripa: Please and Thank You 'Never Goes Out of Style'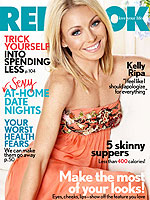 Courtesy Redbook for use on CBB
The golden rule in Kelly Ripa and Mark Consuelos' house? Mind your P's and Q's!
"My kids must be polite to other people," the 39-year-old mom-of-three tells the January issue of Redbook. "You can get so caught up in your own world that you're not aware of other people and how you're affecting them."
Singling out herself as "the biggest offender," Kelly says that she "want[s] better" for Michael Joseph, 12, Lola Grace, 8 ½, and Joaquin Antonio, 6 ½.
"The art of please and thank you never goes out of style. I've had thank-you notes made up for them, and when they complain that they don't have lines on them to make it easier to write, I literally get out a ruler and draw the lines."
The kids have, in turn, helped their mom in at least one important way: By teaching Kelly it's okay to say no. "With kids, you have to say no to them and mean it, and that's enabled me to say no in other aspects of my life," she explains. "I'm not good at it, but I'm learning."
She's also made strides in saying yes, to the notion of taking an hour for herself each and every day. "I used to have work and kids, and that was equal," she notes. "It was work and kids and work and kids and more work and more kids, and I nearly got lost in the shuffle."
While she filmed Hope & Faith, Kelly was also serving as co-host of Live with Regis and Kelly; Being over-scheduled "took a toll," she admits, in the form of exhaustion and a short fuse.
"It's not in my nature to be in a bad mood," she notes. "But at the end of the day, things were off balance."
"Then, as the kids got a little older and the sitcom got canceled, it seemed to free up a lot of my time, and Mark suggested that I join a gym. He said, 'Give yourself that gift, because exercise is good for the mind. What happens to your body is secondary.' And he was right."
Click below to read about Kelly's babysitter guilt.
The couple also make date night a priority, and Kelly credits her husband with helping her overcome babysitter guilt. "Mark would say, 'We are going out to dinner,' and I would say, 'Without the kids?'" Kelly recalls. "And he would say, 'Yes. Because that's what grown-ups do.'"
"It was something he forced me to do, and now I think to myself, The kids will be thrilled. They know the babysitter is going to let them watch TV and eat cookies. So that's the balance Mark introduced to me. I know there are people who are good at dealing with this stuff, but I think the majority of women feel tremendous guilt."
Even the power of Mark's persuasion falls short sometimes, however, and guilt wins out. "There are still nights when … I'll pick a fight with Mark over having nothing to wear," Kelly concedes. "Which is a lie. I'm like, 'I'm not going! My throat hurts! I have nothing to wear!' And he'll say, 'Which is it?' I'm like, 'I have nothing to wear and, yes, I think my throat may be hurting soon.' We're evolving."
When it comes to girlfriends, Kelly has plenty, and most are moms. "We are together a lot," she says. "We take care of each other." Whether it means picking up a pal's child from school, or pitching in elsewhere as needed, Kelly feels that maintaining that bond "is important."
"You really meet a whole new social group through your kids that you wouldn't otherwise because we all have different jobs. Now that we're all so close, it doesn't matter if our kids are in the same class. We'll still celebrate our birthdays and exercise together."
Almost every weekend the family of five head to their beach home on Long Island. "My youngest, Joaquin will say to me on Tuesday, 'How many days until Friday, Mom?'" Kelly shares. "We watch movies, we go to the beach…Even in the winter we'll take hot chocolate and bagels and just sit there."
"My son recently asked me when that Sunday-night, disappointed pit in your stomach goes away, and I said, 'Honestly, I'm not sure if it ever does.' But then Monday, I feel energized because we had a relaxing weekend."
That energy-level is largely dependent on the sleeping arrangements of the previous night, however! "Sometimes, Mark will wake up in Joaquin's bed, and I'll wake up in Lola's tiny bed feeling like a contortionist and saying, 'I'm in pain and why is there a dog on my head?'" Kelly jokes.
In all seriousness, the couple consider themselves "so lucky" but also acknowledge that much of what they've achieved is a result of hard work. "Mark and I were talking recently about this time when our son and daughter were drawing pictures of houses on the chalkboard in their playroom," she recalls. "They were drawing the house that we were going to live in, and both Mark and I said, 'We did that.'"
"I think having in your mind, One day when I grow up, I'm going to live in this house, I'm going to do this…. I think there's something to dreaming about your grown-up life that can lead to a good grown-up life."
Source: Redbook, January issue