Maggie Gyllenhaal on Her Relatable New Role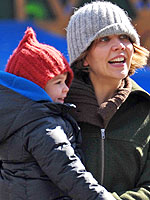 Splash News Online
For actress Maggie Gyllenhaal, playing a mom in Crazy Heart came naturally. Not only is she a real life mom to Ramona, 3, Jean — her character in the film — experiences revelations about motherhood and personal sacrifice at the same time Maggie says she was experiencing them, herself.
"My daughter was almost two when I made the movie and I kind of got to this place where I felt like, 'I am also me. I am also an actress,'" she explains to Movies Online. "I had this really strong hunger to express something that I hadn't had for a while when she was a tiny baby."
Although Maggie filmed Batman and Away We Go in the months after Ramona's birth, the film shoots were short — 15 days and three days, respectively. Those movies got "a little" of her creative energy, but Crazy Heart "got almost all of it," she adds.
"When I look at the movie now, I kind of see Jean is really going through a similar thing," Maggie explains. "I don't know if that's just part of the movie inherently or I put it there, but I think for Jean it's like she's got this four-year-old who, at least for a big chunk of time, she's been raising alone."
"She's just been trying to do good, trying to be good, trying to manage, trying to manage, trying to manage and I think she just finally says, "I need something for me. I need something that feels good to me and I don't care if it's bad for me. It's better if it's bad for me.'"
The balance between "what you need in order to be alive" and "what you have to sacrifice for your kids" is "a line every mother walks," Maggie, 32, feels. "I think if you're a mother, you know what I mean," she adds.
Ramona is Maggie's daughter with husband Peter Sarsgaard. Crazy Heart is in theaters now.
Source: Movies Online
— Missy