The Spelling-McDermotts Get on the Bus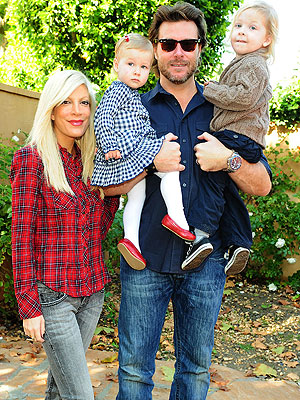 Albert Michael/Startraks
Say cheese!
The Spelling-McDermotts pose for a photo before visiting Gap's Cheer Bus on Monday in Encino, Calif.
The plaid bus, consisting of professional dancers and drummers, is hitting multiple cities including New York, Chicago, Los Angeles and San Francisco, where performers sing, dance, and hand out 50% off coupons for the Gap.
For more photos of Dean, Tori, Liam Aaron, 2 ½, and Stella Doreen, 18 months, check out their family photo album!
Stella wears babyGap's Gingham Crinkle Dress in Navy ($30), while Liam wears babyGap's Cable Knit Cardigan in Brown Heather ($25).