Paige Premium Denim Founder Talks Maternity Jeans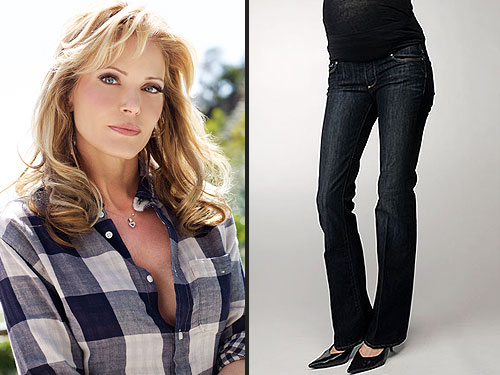 Paige Adams-Geller/Paige Premium Denim McKinley Jeans
Paige Adams-Geller knows a thing or two about jeans. After years working as the denim industry's top fit model, she decided to use her expertise and launch her own line of "perfect fitting jeans" — Paige Premium Denim. With an instant hit on her hands, she added a maternity collection (Hollywood moms like Nicole Richie, Heidi Klum, Alyson Hannigan and Padma Lakshmi are fans) a year later in 2005.
We personally love the sleek styles and body-boosting cuts the line has to offer, so we were excited to chat with the fashion maven recently about her maternity jeans. Check below for our interview, plus Paige gives us her top five tips on picking out the perfect pair for those magical nine months.
Click below for all the dish!
Why maternity?
We were approached to do it, and I thought it was a perfect progression of the brand, since I'm into fit and making women feel good about themselves. Plus, I wanted to do maternity differently than my competitors. I wanted to make sure the jeans fit perfectly!
I'd put a fake baby belly on my tummy, fit the jeans on, and think about how my hips would expand. I cross-fit on pregnant friends, by making the jeans in their size, then having them come in to try them on. That way, they've not just been fitted by someone wearing a fake belly, but by real pregnant women, too!
I'm testing out new waistbands now. I have a friend who's currently 7 months pregnant, so she'll be my latest fit model. I haven't been pregnant myself, so I don't know the discomforts and changes associated with pregnancy, but it's nice to know that I can have friends who will come in and give me the truth!
What are your best-selling maternity styles?
The two most popular Paige maternity styles right now are the Laurel Canyon in the McKinley wash ($196, above right) and the Westbourne ($202), also in the McKinley wash. I think people love these styles because they can wear them to work or out, and they can dress them up or down. They're comfortable, but they're made of a poly blend so they also hold you in. So they feel almost like a girdle, but comfier because they're stretchy!
Paige's Top Five Tips For Buying Maternity Jeans
Consider your style needs. First, decide if you want something comfy to wear on a daily basis or something hot and sexy to wear out. If you want an everyday jean, go for a pair that's lighter-weight and stretches more. If you want a sexy jean for nighttime, look for a skinny style or a legging or jegging (denim leggings) in a thicker or heavier fabric that really holds you in — you'll be one sexy mama!
Also think about the kind of tops you like to wear. If you're into long tunics, jeans with a skinnier leg — like our brand new Willow style ($185) — are your best bet. Fitted tops look best with boot-cut or flare leg jeans, otherwise you'll look big all over. Dressing — even with a bump — is still all about proportions.
Pick the right size. With denim, a lot of women tend to think, "Oh I'm pregnant, so if I'm a 28 in my normal jeans I'll need to get a 29 or 30 in maternity." But our size 28 maternity jeans fit the way they should fit — you don't need to go up a size! Although for some women that last trimester is tricky — sometimes you might have to go with a larger size those last couple of months.
All maternity jeans aren't created equal. Some jeans have panels and some don't — it really depends on your preference. I have one style called the Westbourne that's amazing. It's low-rise and has elastic pulls on the inside. You can loosen the jean up as you go through pregnancy. It's the same idea as little kids' jeans, where you can pull the waistline in then expand as they grow. What's great about this style is that after you have your baby, as you lose weight you can tighten them back up again until you're ready to wear your regular jeans.
Do the sit-down test! Try it out in the dressing room. It's a great way to see if the overall fit or panel work for you. Sometimes when you're seated, the spot where the belly panel meets the jean can be uncomfortable, digging into a pressure point. And it'll only get worse as you get bigger. The key is to find jeans — with or without the panel — that have a waistband that hits below your belly.
Shoes matter. More than likely, you'll be mostly wearing comfy flats during your pregnancy, but you might want a pair of jeans you can wear with your heels too! So get two pairs — one that's hemmed for flats and one that's hemmed for heels.
—Kate