Nicole Sullivan Says Dashel 'Mocks' and 'Mimics'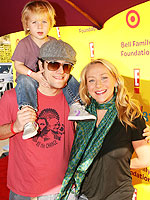 Jesse Grant/WireImage
Even the best laid plans have been known to go awry, and Nicole Sullivan says that's exactly what happened when it came to naming her second son, 3 ½-month-old Beckett Edward.
"When you come up with your kids' names, it's hard because this is forever, they're going to have this name," she noted during a recent appearance on The Bonnie Hunt Show. "You think of the worse-case scenario nicknames…we've all known a Regina in our life, or Richard, you know what I'm saying, right?"
When the 39-year-old Rita Rocks actress and her husband Jason Packham decided on Beckett, they believed they were in the clear — but their first son, 2 ½-year-old Dashel Pierce, quickly poked a hole in their theory!
"We thought, Beckett, that's a classy name! My son comes home, and Dash — first thing — goes, 'Heeeeey, Becky!' Argh. I didn't think, that's a girl's name!"
From the sound of things, Dash is keeping the couple on their toes in more ways than one. "He mocks me, I feel like," Nicole admits. "I don't even know what he's doing. He goes, 'Really Mom? Really?'" Like most children his age, Dash is also quick to imitate what he sees — the good and the bad. "The other day he told my husband, 'Don't freak out, Jason,'" Nicole recalls. "And [my husband's] like, 'I wonder where he heard that?'" She adds,
"I don't like hearing myself through that mimic. It's fun because they'll try anything … they just want to get their way. So they'll try anything to get that cupcake or to get to watch that cartoon, try any angle."
With two children and seven animals in the home, Nicole says that her Christmas tree is up — but just partially decorated. "There's only ornaments from the top half up," she explains. "In my sleep I hear ornaments breaking."
The boys "love it so much," however, and like to blame their exploits on their furry friends!
"I watched my son take an ornament and throw it on the ground — I watched him break it. I pretended I didn't, came back in and said, 'What happened?' and he threw that dog under the bus so fast. In a second, he didn't even think twice! He goes [to the dog], 'Bad Donut, bad!'"
Source: The Bonnie Hunt Show