Kendra Wilkinson Says Son 'Completes the Family'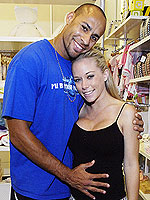 Amy Graves/WireImage
When their son Hank Randall IV arrived last Friday, Kendra Wilkinson says that husband Hank Baskett was ready — with a new mom gift in hand!
"He got me a little egg locket," the first-time mom reveals to OK! "It's a little blue egg necklace with a little bow tie on it to represent our baby boy…I'm gonna put a picture of him in it." The present parade continued, however, with a charm bracelet that contains a charm for mom, a charm for baby, and a diamond heart. Kendra adds,
"I'm gonna get one for Hank too, so it's like a family charm bracelet. That was very special to me."
Looking forward to the holidays, Kendra says that baby boy "completes the family," and reveals that his birth was a unifying experience.
It's so cool how this little baby, this little bundle of joy, just brought all families together. Hank's family was out here, everybody was out here for this. Not one person was missing."
Source: OK!