Chris Robinson Inspired By Ryder's Band Name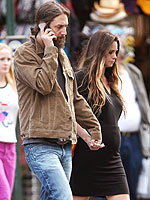 Freddie Baez/Startraks
Time spent with his children — son Ryder Russell, 5 ½, and a baby girl due in January — is all about quality, not quantity for Black Crowes frontman Chris Robinson.
While logging long hours on tour with his band may have him away from his family for extended periods, the rocker makes it clear that his schedule makes him no less of a father.
"It's tough being away from your kids," he admits. "So the one thing I want to instill in my children is, 'My dad wasn't away just screwing around, my dad was completely committed, because music is important!'"
And, so far, it seems as if Chris' dedication to the industry is rubbing off on Ryder, who is able to sing on perfect pitch.
"He told me his band name the other day, which, I have to say, is one of the coolest names I've ever heard," the proud papa laughs.
"He said, 'Dad, I'm going to start a band. They're called Black Tusk.' And I was like, 'Far out! I might just take that from ya for one of my projects!'"
Baby-on-the-way is Chris' first with girlfriend Allison Bridges, while Ryder is his only child with ex-wife Kate Hudson.
Source: San Francisco Examiner
— Anya