Sarah Jessica Parker Not Ruling Out Another Child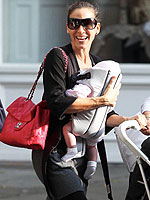 Santiago Baez/Ramey
Although they only recently welcomed twin daughters Marion Loretta Elwell and Tabitha Hodge, 5 ½ months, Sarah Jessica Parker tells USA Weekend that her family of five with husband Matthew Broderick could continue to grow.
"It doesn't mean it's over," she reveals. "It doesn't mean we won't continue to try to have a bigger family, that we won't continue to pursue all sorts of ways of doing it, adoption — who knows?"
The 44-year-old actress is quick to point out, however, that she is hardly going it alone. "I hear a lot of actresses pretend they don't have help, and that can't be true," she says before adding,
"It's really unfair to working women in this country who read [celebrity news] and think, Why can't I lose weight when I've had a baby? Well, everyone you're reading about has money for a trainer and a chef. That doesn't make it realistic."
With Sex and the City 2 poised for a May 2010 release, Sarah Jessica has been busy — but as she hits up a New York City grocery store for peas to go with the lamb chops she would be preparing for dinner, she tells the interviewer that her role at home is the most exciting of all.
"I love being a housewife," she says. "I am dead serious."
"There is enormous satisfaction when you're a mother and you've gotten through a day. I can't explain it. It's different than being satisfied about your work life, which makes you worry more."
In addition to the girls, Sarah Jessica and Matthew are parents to James Wilkie, 7.
Source: USA Weekend