Robin Thicke: Baby Is a Boy, To Be Named Julian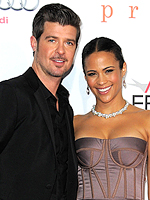 Jordan Strauss/FilmMagic
Not only do Robin Thicke and Paula Patton know the sex of their baby-on-the-way — it's a boy! — the couple have even settled on a name: Julian.
In a new interview with Essence.com, the 32-year-old singer says that although he's looking forward to fatherhood, he's also battling some first-time dad jitters.
"I'm afraid of not being patient enough, but most of the time that's when I'm scared or worried about the future. I want to work on that. But my biggest fear is being able to be there, because I don't know if kids ever think their parents were there enough."
Cognizant of the awesome responsibility which awaits him, Robin says he's ready to roll up his sleeves. "You can't have the amazing joy a child brings without work," he notes, "like you can't have a great woman or man unless you put in work."
Of course, all work and no play would make Robin and Julian dull boys and — to that end — there are major plans for fun. Robin says he's looking forward to teaching his son how to play basketball, among other things! He continues,
"Teaching him how to respect a woman. Teaching him music. Getting to play him Biggie Smalls at some age, we'll experience that together…that's the beauty of having a child."
Julian is due in May. Robin's new album, Sex Therapy, is available now.
Source: Essence.com