Liev Schreiber: Fatherhood Forces Me to Leave Baggage Behind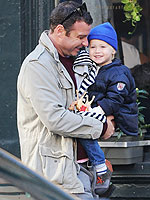 Ron Asadorian/Splash News Online
With two kids two and under, date nights are a thing of the past for actors Liev Schreiber and fiancée Naomi Watts. And while balancing fatherhood and a successful career has undoubtedly left Liev with little alone time, he's certainly not complaining.
"It's kind of amazing, actually: You go through all this stuff in rehearsal and you come home and they don't give a crap; they just want your full attention," he shares in a new interview with Time Out New York.
Preparing for his latest stint on Broadway — alongside Scarlett Johansson in A View from the Bridge, opening in January — Liev, who portrays a Brooklyn dockworker, admits the role has been far from easy. Fortunately, his worries are washed away when he is met at the front door by his son Alexander 'Sasha' Pete, 2.
"It's been a total savior. [Sasha] is like, 'Daddeeeeee!' and he just wants to play. You dump the baggage right away and reconnect with all these human feelings. It's such a good hit."
Often trading off work schedules with Naomi to ensure that at least one parent is with the children — "You gotta negotiate with each other and support each other in that regard" — Liev jokes he has felt pangs of jealously over a few of her stellar performances.
"I've wanted a couple of roles she's played," he laughs. "No, but kids make a big difference. You want to be there all the time, and when you're both working, it's hard."
Liev and Naomi are also parents to Samuel Kai, who celebrated his first birthday Sunday.
Source: Time Out New York
— Anya