Sofia Coppola Expecting Second Child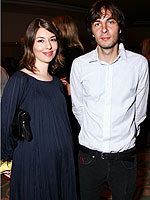 Alexandra Wyman/WireImage
Director Sofia Coppola and Phoenix frontman Thomas Mars are expecting their second child, the rocker confirms.
In a backstage interview with Chicago's WXRT, the French-born musician, seemingly surprised, nodded affirmatively when asked about his partner being pregnant.
Sofia, 38, and Thomas have been together for four years and have a 3-year-old daughter, Romy.
"I heard the story that if you play Bach, [babies in the womb] get smarter," Thomas said.
Asked if he would play music from his band's latest album, Wolfgang Amadeus Phoenix, the singer joked: "We have to study it. Not sure it's a good idea."
Sofia, who lives in Paris, is currently in post-production on Somewhere, starring Michelle Monaghan and Benecio Del Toro. The film, her first since 2006's Marie Antoinette, is expected to debut at the upcoming Cannes Film Festival in May.
— Peter Mikelbank