Sarah Jessica Parker Dishes on Her 'Divided House'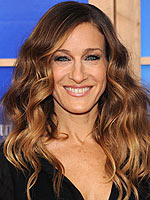 Bryan Bedder/Getty Images
A womb is just about all twins Marion Loretta Elwell and Tabitha Hodge, 5 ½ months, have ever had in common, according to mom Sarah Jessica Parker.
The 44-year-old actress proclaimed the girls "about as un-identical as twins can be" during a Tuesday visit to the Late Show with David Letterman, citing their differences "physically, intellectually, spiritually, geographically, politically, ideologically and religiously." Sarah Jessica went on to joke,
"One of them is a Republican, which is weird. But we have Mets and Yankees fans in our house too, so we're used to a divided house."
There isn't much division between son James Wilkie, 7, and the twins thus far. Describing her firstborn as "very hospitable" to his new baby sisters, Sarah Jessica says that James has at times been both "amused" and "annoyed" by Loretta and Tabitha — but the former usually wins out over the latter.
That much was evident recently when Sarah Jessica was wondering aloud about whether the girls would someday attend the same school as their big brother. "James Wilkie was gobsmacked," Sarah Jessica recalled. "He said, 'They have to come — I have to know they're downstairs…if I'm in the 9s they'll be in the 2s.'"
"I said, 'So you like them?' And he concurred. Then he said he would be very upset if he ever heard anyone making fun of them, that it was his right to make fun of them. And I said, 'Remember that about your mother.'"
The affection James feels for the girls is mutual. Tabitha, according to Sarah Jessica, thinks that her big brother "hung the moon." She adds,
"Her head can turn literally 360 degrees to follow him anywhere….she's really, really smitten."
However, it is his other sister that James shows the most affinity for. "He named her Marion because he really wanted a Marion and I really wanted a Loretta and I wanted to respect his wishes," Sarah Jessica explains.
"In the hospital, he said to me, 'I want to see it on the legal document.' He calls her Marion (whispers) but nobody else does. But he likes her best and I think it's because she looks like him."
Loretta, Tabitha and James are Sarah Jessica's children with husband Matthew Broderick.
Source: Late Show with David Letterman
Click below to watch Sarah Jessica Parker share a new photo of Loretta (l) and Tabitha (r).