Kelis Says Motherhood 'Makes What's Important Clear'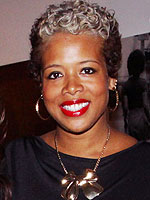 Johnny Nunez/WireImage
As it does for many, motherhood has given Kelis a new perspective on life. "I don't think it's changed who I am, but I think it just makes what's important clear," she explains in a new interview with Honey.
Mom to 4 ½-month-old son Knight with estranged husband Nas, the 30-year-old songstress says she doesn't even mind the 5 a.m. wake-up call from baby boy.
"Seeing that Knight's awake and he's got this bright, sunny, delicious face looking at me like, 'Good morning mom.' It's literally the greatest thing to wake up to and it tickles me every time. I adore him."
With a new album — tentatively titled Flesh Tones — due in stores next year, Kelis has been busy on the work front as well, but she says she  "never thought" about taking a break from music. "Organically, one thing just led to the other," she explains before adding,
"I feel like your child should be a part of your life, not that your life should change because of your child. I never wanted to be that type of woman who couldn't balance her family and work."
Image is, of course, a big part of Kelis' job and to that end she admits she was "scared to death" about the weight she gained while pregnant with Knight. With a sense of determination to reclaim her pre-baby body, however, Kelis recalls thinking that "there was no way I wasn't losing that weight…absolutely no way!"
Her approach to maternity fashion was equally fierce. Noting that "[pregnancy] is not the most ideal physical situation," Kelis nonetheless says that it need not be used as an excuse to let yourself go.
"It's amazing when you can be both beautiful and pregnant. Because of the discomfort, I think a lot of women just give up. But I never gave up. My hair and nails were always done and I was always wearing something bright and shiny, made me feel better. I think that's important."
That said, Kelis says she has no plans to revisit her maternity wardrobe! "I think I pulled myself together pretty well but I don't know if I'd wear [those outfits] again," she explains. "I just looked like a nice pregnant lady (laughs). Am I running to put that sh-t back on now? No!"
Source: Honey