Giada De Laurentiis Credits Yoga, Diet for Postpartum Slim Down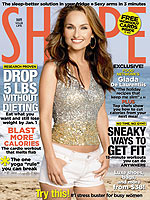 Courtesy Shape for use on CBB
Having a baby changes everything, and for Giada De Laurentiis that adage holds particularly true. The 39-year-old celebrity chef tells the December issue of Shape magazine that her approach to diet and exercise has been irrevocably altered since welcoming daughter Jade Marie, 20 months.
A former gym devotee, Giada turned to yoga as an expectant mother and never looked back. "I thought, 'Oh, this will be a good way to stretch' but it turned out to be so much more," she notes. "It taught me to breathe, it strengthened my muscles and it helped me relax."
In fact, yoga has become so important to Giada that a private instructor arrives at her home every day at 4:45 a.m. for an hour-long session. The early start time might make some moms cringe, but Giada says it is crucial.
"If I don't do it first thing, I simply won't do it," she admits. "With my crazy schedule, that often means cutting into my sleep." She adds,
"But yoga gives me the energy and focus I need to get through my day. I'm not saying I don't need a cup of coffee in the afternoon sometimes, but it's the yoga that definitely keeps me centered."
It also helps her maintain her enviable physique, which she says she reclaimed by giving up white sugar and cheese for six months after Jade was born. "I gained 22 pounds, which doesn't sound like much, but I'm only 5'3″ so it was a lot for my height," Giada points out.
"Because I had a c-section, I couldn't work out for a long time afterward, so I knew the best way for me to lose weight was through diet."
Jade is Giada's daughter with husband Todd Thompson.
Source: Shape, December issue