Bethenny Frankel Finds Baby Belly 'Liberating'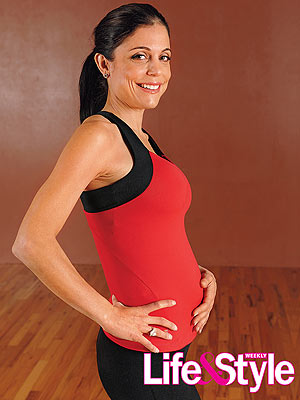 Courtesy Life & Style for use on CBB
Being four months pregnant hasn't slowed down Bethenny Frankel one bit.
She's shooting The Real Housewives of New York City, will set out on tour to promote her new book, The Skinnygirl Dish, and just finished filming her first exercise DVD.
Over the weekend, Bethenny, 39, took time out on the NYC set of her Skinnygirl workout video to show off her baby bump and chat with Life & Style about the pregnancy!
Congratulations! Are you super excited?
BF: I'm really excited. I'm starting to show a little bit. I don't fit in my pants — it's very liberating. Now I believe that I'm pregnant.
Have you gained a lot of weight?
BF: Five or six pounds, but they're right in my stomach.
A lot of people think being pregnant is one giant binge, but you should check yourself before you wreck yourself.
I'm not changing the way I eat. If I eat chocolate cake at lunch, I try not to have it after dinner.
By no means is it dieting, but I'm trying to maintain some sort of balance because I'll have to deal with it later. I'm actually thinking of writing a pregnancy book. There's no reason to gain 75 pounds.
Have there been any complications because of your age?
BF: I had a scare. I had a big blood clot before three months. It was very scary. I was on bed rest.
Do you feel like this is a miracle baby?
BF: Absolutely a miracle. I'm not young, and I run around like a maniac. I always wanted to have kids, but I thought I'd wind up adopting or freezing my eggs. I didn't think it would just happen at my age.
Did I plan the pregnancy? No. Did I want it? Yes. I felt like there was something huge missing in my life that I hadn't experienced yet.