Seal Opens Up About Decision to Adopt Leni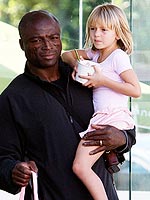 Splash News Online
It's official! In a new interview with the UK's Mirror, Seal says that his adoption of daughter Leni, 5 ½, is complete — but the 46-year-old singer is quick to point out that not much has changed in the home he shares with wife Heidi Klum.
"It doesn't make [Leni] any more or less my daughter," he notes. "She always has been."
"All it means is that both Heidi and I wanted her to have the same last name as the rest of us…It was about Leni. I don't want her to feel different because I know what that's like, being a kind of stepson. And I don't want that dynamic for my little girl."
Leni's biological father Flavio Briatore "was a gentleman about the whole thing," according to Seal, who adds, "I have a tremendous amount of respect for him."
Praising the Italian businessman for the way he handled a "really difficult" situation, Seal admits he doubts he could have "been that adult about it" had the roles been reversed.
"I certainly have nothing but good things to say about the way he's been with us and he's more than welcome to see Leni any time he wants to."
Life with his family of six — together, Heidi and Seal are also parents to Henry, 4, Johan, 3, and Lou Sulola, 9 weeks — is "not all a bed of roses," Seal says, but "in the grand scheme of things, it is the perfect life." The couple consider themselves lucky to a point, but also feel they've earned all that they've achieved.
"The harder you work … and visualize something, the luckier you get," he notes. "The luck comes in the fact that Heidi and I have healthy children and we are relatively healthy, too."
When they learned they were expecting their fourth child, Seal admits he was nervous. "I found myself thinking before Lou was born, 'We've got three kids, how on earth am I going to find any more love to give another kid?'" he says.
Whatever doubts he might have been feeling dissipated quickly, however.
"Lou turned up and the first time I held her she looked up at me with this frown, which she's definitely got from me, and I fell in love at that point…It was really emotional this time because we knew this was the last time [but] four kids is enough."
As for Heidi's body-after-baby, Seal says that there is no closely guarded supermodel secret for the postpartum slim down. "A lot of it is genetics," he notes. "The other thing is that my wife is one of the most balanced eaters I know."
Heidi eats "loads of greens and vegetables," and when she splurges on something like chocolate or fast food, she "just won't eat as much of it as I will," Seal says. "She's very disciplined like that." He adds,
"And it's not that she's worked out like a fiend to get back in shape either. I find it really unattractive, women who do that. Heidi isn't a gym buff. She's like her mum who's 65 and is more active than I am. I have no problem putting my feet up and watching football but my mother-in-law is always doing stuff. Heidi's the same."
Source: Mirror
Thanks to CBB readers Lynn and Ariel.