Joey McIntyre Welcomes Son Rhys Edward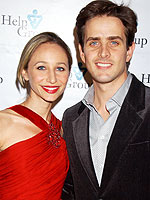 Roger Karnbad/Celebrity Photo
Make way for another new kid on the block: Joey McIntyre has added a second boy to his brood.
Wife Barrett delivered son Rhys Edward McIntyre at 9 p.m. Sunday, Dec. 13th in Los Angeles, the singer's rep confirms to PEOPLE exclusively. "He and his mom are both rock stars," Joey, 36, Tweeted on Monday.
Rhys weighed in at 7 lbs., 10 oz.
Joey and Barrett, who announced the pregnancy in July, are already parents to elder son Griffin Thomas, 2.
Will the family continue to grow? "I think we have a deal to keep going until we have a girl," laughs Joey. "That's what my wife says."
Here We Go Again, Joey's latest solo work, is now available on iTunes. On Sunday, the singer will join the New Kids on the Block for a holiday concert in their Boston hometown.
— Michelle Tan