Brooke Shields Recalls Her 'Innate Desire' for Motherhood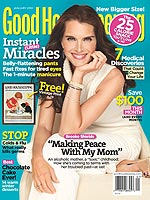 Courtesy Good Housekeeping for use on CBB
Although the relationship with her own mom has been filled with ups and downs, Brooke Shields says the strife never soured her perspective on motherhood.
"From the time I could speak, I knew I wanted to have children," the 44-year-old actress reveals in the January issue of Good Housekeeping. "It was just an innate desire."
Mission accomplished! Mom to two daughters — Rowan Francis, 6 ½, and Grier Hammond, 3 ½ — Brooke is candid in the interview about the girls' less-than stellar moments, and how she chooses to deal with them.
"The other night Grier was just having a fit — screaming hysterically," Brooke recalls, when Rowan shoved her sister. "I said to Rowan, 'You know I love you, but when you do things like that repeatedly, it actually makes me not like you. I don't know what to do with that, because I'm your mom. So can you help me out?'" She then asked Rowan, "Does it feel good in your stomach, when you're doing that to your sister?"
When her elder daughter replied no, a teachable moment had arisen.
"I said, 'So we know it doesn't make me feel good; it doesn't make you feel good. Is there an alternative? You know, I'm not asking you to be more mature than you should be. You are a kid. But there are some things you just can't do.'"
Also high on that list are manners. "I think people let their kids express themselves a little too much these days, actually," Brooke opines. "It's all sort of, 'Let them be!' There are rules." When Rowan and Grier are rude, for example, Brooke says "it's over," adding, "there is no place in the world for it."
Although she is comfortable playing the role of "bad cop" to husband Chris Henchy's good cop, Brooke says that a role reversal was recently instituted after Rowan picked up an unsavory habit.
"I said to my husband, 'You have to get her to stop rolling her eyes at me.' If I can't get her to stop at 6, how will I get her to not smoke crack and get pregnant at 13? If my word isn't important to her now, my word won't matter later."
Click below to read about the girls' Catholic faith, and how Brooke learned to embrace chaos.
With her mom — who suffers from dementia — now living in a nursing facility in New York City, Brooke is able to bring the girls along for visits, with varying results.
"The other day, we all had our nails done," she reveals. Grier is particularly fond of her grandmother because, Brooke suspects, both are "entirely self-absorbed." Rowan, by contrast, is more fearful of the situation. "She wants the world to make sense, and my mother doesn't make sense," Brooke explains. "And [Rowan] also sees me get stressed."
The girls are being raised Catholic, and pray each night at bedtime — or at least try to! Grier has mistakenly substituted "give us this day our barely dead" for "give us this day our daily bread," and Brooke has no plans to correct her. "I actually like it better," she jokes. "I feel barely dead sometimes."
There are other routines for dinnertime and the like, but Brooke has learned to let go when she needs to. "I would have thought that I would have become one of those parents — just because it's my nature to be such a perfectionist — that anything falling short, I would have seen as a failure," she notes.
"But something has happened to me over the past few years — it's not Zen, believe me, I'm not at all Zen — but I'm so appreciative of even the chaos. It's not about being perfect; it's about being engaged."
Her efforts appear to be paying off.  Rowan is "really, really bright," the proud mama reports, as evidenced during their family trip to Egypt last year.
"[She said] 'You know, when these pyramids were made, we didn't exist — New York didn't exist, you didn't exist, I didn't exist,'" Brooke recalls. "I said, 'No, we didn't.' She said, 'I was swirling around in heaven. But don't be sad, Mom, I had you with me.'" As for Grier, Brooke reveals,
"The other day she said to me, 'Mama, you are my heaven.'"
Source: Good Housekeeping, January issue
— Missy