Amanda Beard Shows Off Baby Blaise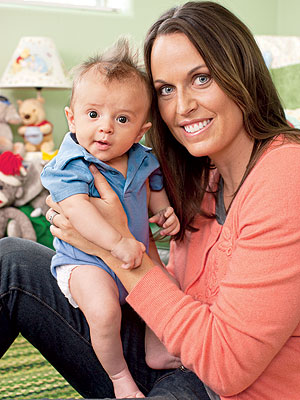 Marc Royce for PEOPLE for use on CBB
Amanda Beard knows a thing or two about pushing through and finishing strong.
But neither her 15 years as a national competitive swimmer nor her seven Olympic medals prepared the athlete, 28, for the September 18 arrival of little Blaise Ray Brown.
"My races last 2 ½ minutes at most," says the first-time mom. "I was in labor for 17 hours!"
But just like in the pool, the hard work paid off: Amanda and her husband, photographer Sacha Brown, 35, were instantly smitten with their 7 lbs. 12 oz. bundle of joy.
"Everyone says, 'It's such a miracle,'" says Amanda. "But you don't truly understand until you go through the process. It's surreal."
Getting there was a struggle at times, as Amanda suffered from high blood pressure and found "24/7 sugar cravings" (forget pickles and ice cream; the lifelong athlete got her fix from "freezing Gatorade and drinking it all day, like a slushie").
But the biggest hurdle for the 5'8″ stunner, who graced the cover of Playboy in 2007, was "accepting that you're getting bigger and that it's okay. You think for six months that you're huge. But by the time nine months rolls around, you're a whale."
Amanda, who gained 50 lbs. during her pregnancy, has already lost more than 30 and recently started training in the pool four times a week.
"Swimming was always my No. 1 focus, but now it's Blaise," she says. "He's at the top of my pyramid. All your priorities change — I just want what's best for him. Motherhood is more rewarding than any medal or world record."
Still, her goal — besides kicking butt when Blaise's Mommy and Me classes start in January — is to compete in the 2012 Olympics in London.
"Training feels easy," she marvels. "Compared to when I was pregnant and huge, workouts are fun."
While Amanda and Sacha — who wed May 1st in the South Pacific — get the hang of the whole parenthood thing at home in Tucson (where they share a four-bedroom home with four German Shepherd mixes), their favorite activity is decidedly low-key: "We stare at him a lot," says Amanda. "He just discovered he has hands; he thinks they're the coolest things in the world."
Could discovering his backstroke be next? Blaise hasn't ventured into the pool yet, but his mom is already encouraged by one of his favorite pastimes: "We put him in the bathtub," she says. "He loves it."
Source: PEOPLE, Dec. 7 issue
Click below for two additional photos!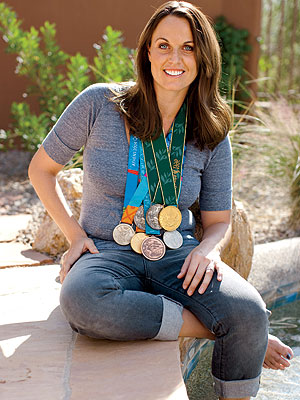 Marc Royce for PEOPLE for use on CBB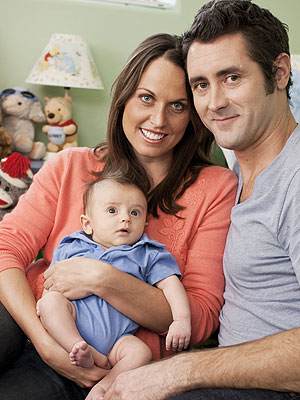 Marc Royce for PEOPLE for use on CBB