Gisele Bündchen, Tom Brady Welcome a Son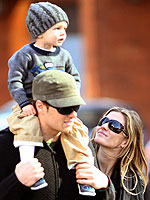 Bauer Griffin
There's another Brady in the bunch.
Gisele Bündchen and husband Tom Brady welcomed a baby boy on Tuesday evening, December 8th.
Tom announced the news to reporters Wednesday after People.com reported the story. The football star called his son's birth "a wonderful experience in my life."
He said happily, "I didn't get much sleep last night," USA Today reports. Tom and Gisele have not yet chosen a name for their new little guy. "I don't have any picks, so we haven't really chosen one yet, but everyone is great," Tom shared. "Everyone is doing really well."
Gisele, 29, and New England Patriots quarterback Tom, 32, were married in a private ceremony in February in Los Angeles. In April, they held a follow-up wedding for friends and family at Gisele's Costa Rican estate.
The child is the first for the Brazilian supermodel. Tom has a 2-year-old son, John Edward Thomas, with actress Bridget Moynahan. In a statement, Bridget said, "I wish [Tom and Gisele] the best with their baby. I'm sure my son will enjoy having a half-sibling. I ask the press to respect our privacy while we are welcoming this new addition to our extended family."
Tom had said earlier this month that he was aware of the baby's sex, but that Gisele preferred not to know.
"I wanted to find out and she didn't, so she said, 'Go ahead,'" he explained. "It will be a surprise for her."
Reps could not be reached for comment.
— Reporting by Peter Mikelbank