Robert Sean Leonard 'Looking Forward' to Raising Daughter Away From Hollywood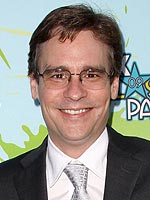 Kevan Brooks/AdMedia
House star Robert Sean Leonard — who has portrayed Dr. James Wilson on the hit show since 2004 — says that being a stage actor is more conducive to family life being a television actor.
Having recently welcomed his first child, 10-month-old Eleanor, Robert notes in a new interview with Deadbolt that arriving at the theater at 7:30 p.m. and arriving home by 11 p.m. would be a vast improvement over the hours he currently keeps.
"Getting up at four in the morning and getting home at 7:30 at night is, you know, unless you're William Randolph Hearst, it just seems a little excessive to me. I have a daughter and my wife, and my dogs, and I like reading, and I like the hours of stage a lot better."
Not that he's complaining! He concedes that House has "financially" given him the opportunity to someday pursue a simpler life far from the glitz and glamor of Hollywood.
"I'm so looking forward to skate keys and homework and driving her to soccer and being back in New Jersey, and just being home," he adds.
Eleanor is Robert's daughter with wife Gabriella Salick.
Source: Deadbolt
— Missy