Tobey Maguire's Joke Is Jennifer's Naming Nightmare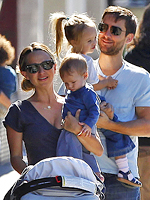 Anthony/Pacific Coast News
For Tobey Maguire and his wife, jewelry designer Jennifer Meyer Maguire, it took more than Spidey sense to choose names for their two children — they needed the gift of time!
During a Friday visit to The Ellen DeGeneres Show, the actor explained that when it came to naming children Ruby Sweetheart, 3, and Otis Tobias, 7 months, patience was a virtue for the pair.
"We didn't name either of our children before their births," he shares. "We like to meet them. We talk about it and we have ideas, but we want to kind of react to them."
That decision came with a price for Jennifer, however! Two weeks after baby boy was born — and still no name — a deadline was necessitated when the couple needed to apply for a passport for their son.
"It was the last day, so I went down [to Los Angeles for the birth certificate], my wife was at home," he shares. "It was so sweet, I was calling her and we were excited. We're going to do it…Otis."
One thing the couple hadn't confirmed with each other was the exact spelling, providing Tobey with the prime opportunity to play a practical joke on Jennifer! "I got an extra form and filled it out and misspelled Otis," he admits.
"We spell it Otis, but I spelled it Oatis on the form and brought it back to my wife and was acting very innocent. 'Oh, I'm so excited! It's official! Look,' and I handed her the paper."
Prompting the audience to "watch her face," Tobey goes on to share a home video of the unforgettable moment of truth — check it out in the extended post!
Source: The Ellen DeGeneres Show
— Anya